Register of authorised online sellers of medicines
This register contains all websites that are authorised by the Medicines and Healthcare products Regulatory Agency (MHRA) to sell medicines online.
You can use this register to check if a website is legally allowed to sell medicines to the public.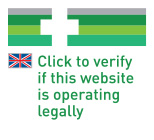 The Distance Selling Logo must be displayed on every web page that offers to sell human medicines to the public.
Pharmacy-only and prescription-only medicines can be supplied by registered pharmacists.
All other general retailers can only sell general sales list products.
Report a suspicious website
If you think a website is selling medicines illegally you should tell MHRA.
MHRA will investigate and take action if appropriate.
Contact
Email: dsl@mhra.gov.uk
Search or join the registry or report a website